No more than a month ago, Mexico was devastated by a powerful earthquake that rampaged through the heart of the country with no regard for what lay in its path. Hundreds of people lost their lives and the nation suffered millions in damage costs as well. Fortunately, responders from all over the world poured in to help these hurting victims rebuild their lives and their home.
In spite of this tragic event, we still love Mexico for everything it is and has given to us which is why we have made this post. To celebrate the people, rich history and beautiful culture that make this nation and premiere travel destination so great.
Food – Who doesn't love a delicious taco hand crafted to one's preference. What if you got to create that taco yourself at a fun taco station? If you are planning a Mexican themed party or event, what better way to get people to start mingling than with some food! A taco station is a great, easy and fun way to have guests talking and enjoying themselves. Fortunately, Mexico has such a wide variety of delicious food options, which like tacos, can all be fun to make or eat. The list spans from nachos for your appetizers as a nice meal while watching the entertainment to some grilled delicious corn. At our Mexican Reception we had a catering company offer grilled corn on a stick lathered in butter and covered in cheese for a mobile and scrumptious snack. 
Decor – Some of the most beautiful and vibrant decorations come from Mexico, whether it be in the form of colorful Talavera tiles or just hanging the bright green white and red flag everywhere. In a country that spans two coasts and an abundance of different landscapes, the Mexican people have been able to create decorations that will fit just about anywhere and still look amazing. So it doesn't matter where you are, we can transform your location into a destination! You can hang banners attached to lights hanging above to make it feel as if you are there. We can set up a beautiful hand crafted wooden bar holstering spectacular ornaments and centered with a Mayan calendar as shown below. Even if kids aren't present, Piñatas are a great final touch to tie everything together.
Entertainment – Close your eyes and just imagine your wall is engulfed by bright blue tiles, you have a gourmet taco in your hands that you just made. Only one thing is missing and that's entertainment!
 What better way to enjoy the night than with some authentic Mexican music such as mariachi or old classic rancheros that will have everyone singing by the end of the night. The men will wear their captivating suits and sombreros while the women will grace any guest with their beautiful traditional dresses. What goes great with music? What else but some stunning dance performances!
Groups like the Mariachi Torrez shown below who have been doing this for over 25 years will be sure to electrify the party and put the finishing touch on this incredible event.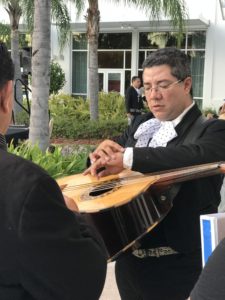 Want to pay homage to this gorgeous country and create and authentic experience? Then we have the next best thing for those who couldn't get their plane ticket in time. Contact us at Exhilarates Events and Marketing and we'll make sure everyone has una barriga llena y un corazon contento.