The fresh new look of Hard Rock Stadium is a unique combination of art, local flare and iconic football legends.
Its' the start of Football Season! We were recently asked by our top financial industry client to find unique high-end activities for their executives. Our initial site inspection of Dolphins home base left us in awe of all the new bells and whistles of this great cutting-edge stadium.
We developed a custom event where the group of 100 (divided into teams) will do a comprehensive back of house tour with fun docents to share the history, the changes to the venue and information about the art installations.  At each location they will get to try a local brewery beer.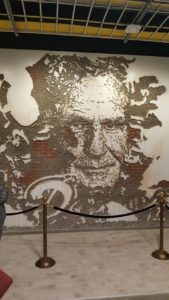 An upscale lunch featuring local flavors of Miami is followed by overwhelming view from the 50 yard line for some interactive football themed activities.  "Laces out!" toss, punt for points and a group photo a Don Shula etched in brick and concrete. We can take this event up a notch and add meet and greet opportunities the real players, Don Shula, Dan Marino, or even the beautiful Miami Dolphins Cheerleaders.
Call us today to help custom design executive team building activities.