At The Special Event every year, we watch Michael Cerbelli's The Hot List and come back and tell you all the newest entertainment and event services. But for the first time, The Hot List was shown at the MPI World Education Congress this year! Want to know what's the newest, hottest event offering this year? Read on!
Entertainment
Skating Aratas: You saw them on Ellen! Now you can see them at your next event! Want to see your guests on the edge of their seats? I can tell you how breathtaking this jaw-dropping act is, or you can check out their video:

Well-Strung: This New York City-based string quartet fuses their unique blend of vocals and strings of classical music and today's pop music. Once again, here's a video (prepare to be amazed):

Interactive Entertainment
Body Marbling: Sure, this may have started out at festivals, but why not incorporate it into your next company event? Using hydrodynamics, guests can now transform their skin into glowing works of art. You can choose the colors to match your conference theme or company logo.
The Chocolate Genius & Dancakes: I had to combine these two, because, well… food (or rather, edible entertainment). The Chocolate Genius is live chocolate sculpting. The "W" is a company logo from a client of ours this past year to show the tabletop version, but check out Katniss too!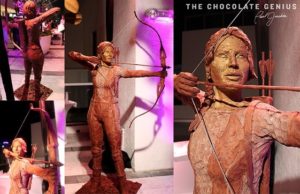 Dancakes is Dr. Dan the Pancake Man. He travels around the world with his portable equipment and makes edible pancake art! He creates these works of art live and can even add color!
Technology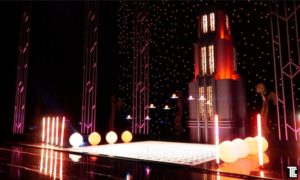 Aerial Drone Show: Indoor, choreographed dancing drones are leaving audiences mesmerized. Watch a fleet of miniature aircraft hover, spin and dive in a ballet of motion set to music. This technology adds a new element to your entertainment.
KM Custom LED Video Sphere: This LED sphere is typically rigged and hung above attendees' heads. Custom content is then created to play on there. Think Cheshire Cat for an Alice in the Wonderland-themed event. Or shooting stars for a galaxy / space / out-of-this-world themed event. The opportunities are infinite!
And that's it, friends. We'll continue to keep you updated on the hottest trends here at Exhilarate. Which was your favorite? We can help incorporate it into your next event, just contact us today!