Relive the most iconic spy series of all time by making a 007 theme for your conference. James bond is one of the most recognizable and successful characters in modern pop culture, the film franchise itself is the second most successful in history right next to the Harry Potter films. James Bond has become the modern image for the world of what consumers think the secret intelligence services encompasses. Centering your conference around this remarkably successful franchise will ensure everyone will leave feeling like a special agent.
Create a Casino Royale atmosphere by installing an archway of a deck of cards at the entryway. For décor options, include some of the most iconic aspects of spy movies. Have a shadow box projector that will feature anyone's silhouettes as they walk around the event to add a fun and interactive element to your decor. Further create a 007 feel by considering a car bar that exudes the elegance that the bond brand is known for such as this gold bar pictured to the right. Pair this fun concept along with the iconic cocktails that Bond is known for such as a vodka Martini..shaken, not stirred.  You can also add whiskey old fashions for a standard dr ink that everyone can enjoy.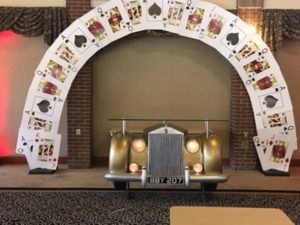 For the true Bond fan, add a classic scotch and soda, a drink that Bond often has in the novels. To bring more interactive experiences for everyone at the event, incorporate a murder mystery game that involves picking up clues from the exhibitors to solve the murder mission and stop the end of the world James Bond Style. Also have Bond impersonators for entertainment so that your guests can do photo ops to make the experience more memorable. Lastly, create centerpieces for this theme that are simple, but elegant. Use pure colors such as white with gold accents or red with black accents. Most importantly, to make a Bond theme successful for your audience be sure you have a venue that exudes elegance and a finesse that your décor and props can be properly spotlighted in. Choose a venue with nice chandelier light fixtures and high ceilings so everything will tie in and your guests will leave feeling like they've experienced a day of what it's like to be a secret agent.