Building Your Auction
The first step is knowing your audience. Know who will be at your event and what they would be interested in bidding on. If it's an annual event, look at which items had the most engagement and which sold for the highest profit in previous years. If you are interested in getting the most money out of your auction, then you should make sure that get the best auctioneer. There are loads of different auctioneers that specialise in different things, so if you are trying to auction off property, then you can find a helpful company if you click here for website. However, if you are doing a simple raffle then you might need to use someone else.
Volunteers: A team of volunteers are key to having a successful auction. It truly does take a village to reach out and solicit items. They'll also feel like part of the team for having brought in some items. As the organizer, make sure to have a donation letter, suggested scripts, and possibly a list of
geographic areas of industries for them to reach out to. Lastly, it's imperative to have processes in place: Who do forms get sent to? Where do items go? What are the deadlines?
Experiences: Think about this – would you rather bid on a gift certificate for a restaurant, or a basket filled with said gift certificate, hotel night stay, horse-carriage ride and a bottle of wine? Exactly! Feel free to bundle different donations together to create experiences. Naming the basket something like "Date Night" will create more excitement than "Dinner for 2". Lastly, try to think outside-the-box and find experiences that are not ordinary. For example, behind-the-scenes tours, going to local amusement parks, or riding in the city parade on the mayor's float.
Consignment Items: They're your friends! They exist solely to help you with bigger ticket items and already packagedexperiences for your auction. Find a company or two and work with them to hand-select items that best suit your audience. Whether it's signed movie posters and guitars or destination vacations and excursions, these items will elevate your auction to the next level.
Marketing Your Auction
The best way to let people know that there's an auction element to the event is by putting the word "Auction" in the title of the event name. If the event is known as something like the "Sapphire Gala," you can add a tagline next to it like "Awards & Auction."
Online Auction: We're in 2017 now and your auction should be modernized as well. Posting items on a website auction system like www.EquifyAuctions.com, allows your audience to preview them ahead of time. You can also open up the auction to an even larger audience than just those attending the event. Online auction systems are easy to set-up and allow for a simple user interface: bidders can ask questions, view the detailed descriptions and bid virtually.
Social Media: If there's a Facebook event created for your event, you should be posting some of the items or donors on there as teasers. Feel free to expand into other picture-based social media platforms such as Instagram and Pinterest. By posting on Instagram especially, you will be able to reach more of your target audience, especially with the use of hashtags. You might even be able to grow more Instagram followers and widen your audience even more. These followers will then see every time you post, improve brand awareness, and any awareness of events that are in progress. Social platforms can be managed by your volunteers – allow those most passionate about each platform to be responsible for posting. Lastly, creating a unique hashtag for the auction itself can help spread the word about the auction.
Website / Booklet: Once you have donors confirmed, market them! Share these items with the world. People want to know what types of items will be available and specifics help. You can post the items on the event website or even send a weekly email with information or teasers leading up to the event. Another marketing tool is the event booklet itself. Listing the items and descriptions in a booklet that will be in the hands of every attendee ensures marketing of the auction items. Those looking for saddle stitch booklet printing services for their event may want to consider approaching a company like Printivity.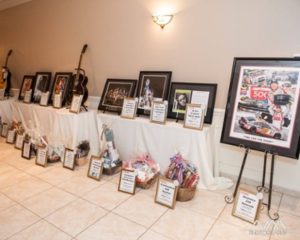 Auction Day
Raffle Tickets: Sell raffle tickets for particular auction items the night of the event. People are more willing to purchase a definite amount of raffle tickets for the chance of winning an item than bidding to guarantee that they do. With so many people taking the risk, the money raised on those items could be more than what would have been raised had they been listed in a silent auction.
Strict Time Schedule: It is extremely important to stick to a strict time schedule the day of the auction. Everyone should know what time the auction closes. If you decide to have multiple layers or tiers of auctions, the times should be posted and announced. A great way to do this in a seated dinner setting is by putting a countdown timer on the screen and projection.

Volunteers: Just like this all started with volunteers, it also ends with volunteers. Utilize volunteers at the closing of the auction to help notify winners, coordinate auction items and possibly collect payment. Having smiling faces of volunteers hand-deliver the winning auction items to the highest bidders (or lucky raffle winners) is the perfect ending to a successful auction. If the money raised is going to a local charity, having people who would be the recipients of the money raised volunteer will make the bidders happier to see who they're helping with their donations.