The enchanted garden experience is a truly timeless theme that lends vast amounts of opportunity for customization and personalization at any event! Its thematic flexibility allows it to work well with both inside and outside venues. For an inside venue, incorporate a green garden scene or woodland backdrop to recreate the outdoors without any of the humidity. To accomplish this look, use Wild vines and bougainvillea crawl along an arched iron entranceway, welcoming guests and providing them safe passage into a whimsical world of wonder. Create little pockets of garden areas with large log stumps for everyone to sit on while visiting each of your exhibitors. Add in vines and microlights with hanging canopies so the area will feel comfortable and relaxing. Conferences are always exhausting at the end of the day, so having areas where people can take a few minutes to themselves is vital to recharging your attendees. For extra detailing, delicate flowers make great optional accents. Try out flowers like baby's breath or perennials, this will add color to the surroundings, brightening up the space.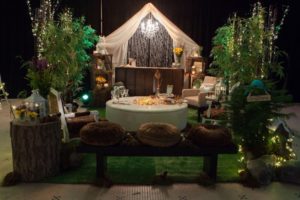 Consider doing live flowers and plants for your centerpieces. Live plants can reduce stress and will purify the air around them so everyone will feel like they're breathing fresh garden air without even leaving the building. To create a more woodland look, add in butterflies and woodland figurines like foxes, doe, or frogs.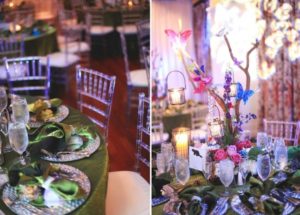 Lastly, what will completely transform this theme from nature inside of a ballroom to an enchanted garden is the lighting! To achieve the theme, the lighting and production elements are key. By adding hues of purple, blue, green, and warm yellows you can enrapture your audience so that all of the elements look like something off of a fairytale. To be enchanted is to 'impact a magic quality or effect to' and you cannot achieve that without our production team here at Exhilarate to transform any space to meet your magical needs.