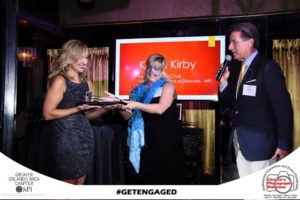 Orlando, Florida, June 23, 2016 – Exhilarate, LLC, a leader in the meetings and events industry, announces Stacey Paul Barabe, CSEP has been named Planner of the Year by the Meeting Professionals International (MPI) Greater Orlando Chapter at the recent Annual Awards Gala at EVE Downtown Orlando. Paul Barabe received the award based on her Awards Committee volunteerism for the chapter and her position as program chair for the Ignite Awards.
At the same celebration, Selina Christine Mullenax, CGSP received the President's Award. This prestigious award is given by the Chapter President (Nicole Unger of Alliance Exposition Services) and supported by the outgoing Board of Directors. Mullenax received the award for her continued dedication to the Orlando Chapter of Meeting Professionals International for the past few years, as well as planning record-breaking events for the chapter membership while serving as the Director of Special Events.
The event draws planners and suppliers from all over the region to come together and celebrate the chapter's accomplishments. MPI is the largest and most vibrant global meeting and event industry association. The organization provides innovative and relevant education, networking opportunities and business exchanges and acts as a prominent voice for the promotion and growth of the industry. MPI membership is comprised of approximately 18,500 members belonging to more than 80 chapters and clubs in 22 countries.