With the blockbuster release of Star Wars: The Force Awakens, new life has been breathed into this franchise favorite. The Star Wars movies have so many memorable characters and elements and there are endless directions in which to take your event design! Here are just some ideas to inspire your next corporate reception.
Entrance
Take your attendees on a journey by transporting them mentally and emotionally from the bland ballroom into another dimension. A line of black drape with themed signage creates a buzz as they arrive to the event. They enter through a spandex tunnel with projections of "hyperspace" giving them the illusion of instant transportation at lightning speed! If your group trickles in, have a costumed attendant at the entrance pulsing them in small groups for added effect.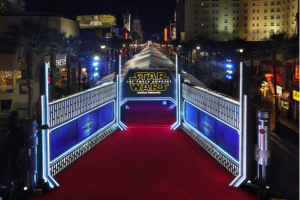 Another alternative is to recreate the entrance for The Force Awakens' premier, which included a red carpet, tall LED wall panels and a lighted tunnel.
Atmosphere Décor
Envelope the room with LED pipe and drape to create the sense of being in outer space. Not enough in the budget for perimeter drape? Opt for setting up these panels as backdrops to the food stations or bars instead.
Luke and Anakin Skywalker both were faced with the same choice: use the light side or the dark side of The Force. Have attendees make the same choice by sprawling futuristic lounge furniture groupings in black or white around the room. Accent with glowing cocktail tables resembling the four light saber colors: red, blue, green and purple.
Decorate the walls or floor with moving lights or static gobos featuring some of the insignias found throughout the series: The Galactic Empire, The Galactic Republic, the Jedi Order and the Rebel Alliance.
Bars & Buffets
Continue guiding your attendees through a journey by setting the bars around the room featuring signature drinks revolving around memorable characters. Here's a great chance to make this a focal point of the event that people will talk about long after!
Some ideas include:
· Vader – Sleek black bar and backbar with red lighting – we suggest serving a blackberry infused vodka cocktail
· C3PO – Gold bar and backbar with a robotic detail graphic – we suggest a local amber craft beer
· Chewbacca – Fuzzy bar? Why not? Wrap a standard bar in a furry brown fabric to give it a facelift – we suggest serving a Fuzzy Navel (peach schnapps and orange juice)
· Stormtrooper – Sleek white bar and backbar – we suggest serving a White Cosmopolitan
· Yoda –brown canvas bar with green under lighting – soda and water station
Another direction is to take the attendees on a journey through space, making each bar a "planet" in the Star Wars galaxy. These ideas can also be extended beyond the bars to create dedicated themed "zones", complete with features like artificial rocks, that serve as an eye-catching environment for which to host your buffet.
Use signage to make each destination clear. Some examples include:
· Naboo (home of Jar Jar Binks) – Underwater with lush greenery. We suggest
a seafood spread.
· Tatooine (home of Luke Skywalker) – Red desert sand with craters. Main course action stations on the grill.
· Endor (home of the Ewoks) – Rainforest landscape. Vegetarian accommodations.
· Hoth (home of the Imperial AT-AT Walkers) – Snow and ice. Dessert anyone?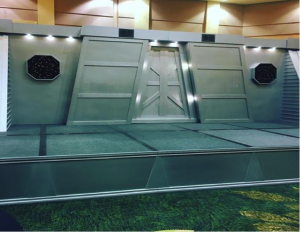 Stage
Set the stage for your program with a metallic stage set resembling the inside of the Death Star. We created this stage set with clean, straight lines that echo the aesthetic of the Imperial army. For a grand entrance, have your CEO enter through a cloud of smoke through the focal door. Also, have an army of storm troopers and dramatic music follow him in for a theatrical effect.
Tablescapes
For a casual dinner, use long acrylic high-top kings tables with barstools. Forgo centerpieces for vinyl decals of the Star Wars insignias, sponsors or your client's logo popping against the bright LED glow.
For a more elegant look, layer a sparkle linen overlay atop a black base linen and top with custom etched acrylic centerpieces in varying heights. The centerpiece design can be unique to each table, each with a different character. Accent the tables with metallic votives, chargers and napkins.
Entertainment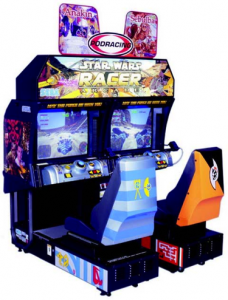 Costumed characters create go-to, fool-proof photo opportunities. Watch your attendees' eyes light up seeing a live, remote-controlled R2-D2 strolling around the room. But go one step beyond the expected and have interactive stations based on some iconic scenes. Attendees can challenge each other to landspeeder races, much like Anakin Skywalker's in Episode 1 or 2. These arcade games link together to allow multiplayer game play.
Depending on your space, another fun activity is "light saber" duel on an inflatable rink. Players each stand on a pillar and they try to knock each other down with a light saber. The player who loses their balance and falls into the inflatable floor below loses. A photographer for this activity can capture the intensity and onsite printing can make this a fun keepsake.
Another unique idea is to have a themed Cantina Casino. For those that want to network at a quieter location, create a secluded draped area that looks and feels like the Cantina Bar where Luke first met Han Solo. Have the dealers of the tables dress like strange space characters (guaranteed to have attendees talking long after the event!)
The Star Wars movies resonate with audience of all ages, making it an ideal theme for a reception. The iconic characters, settings and scenes are excellent sources of inspiration for the design. Contact us to make these ideas a reality for your next event.