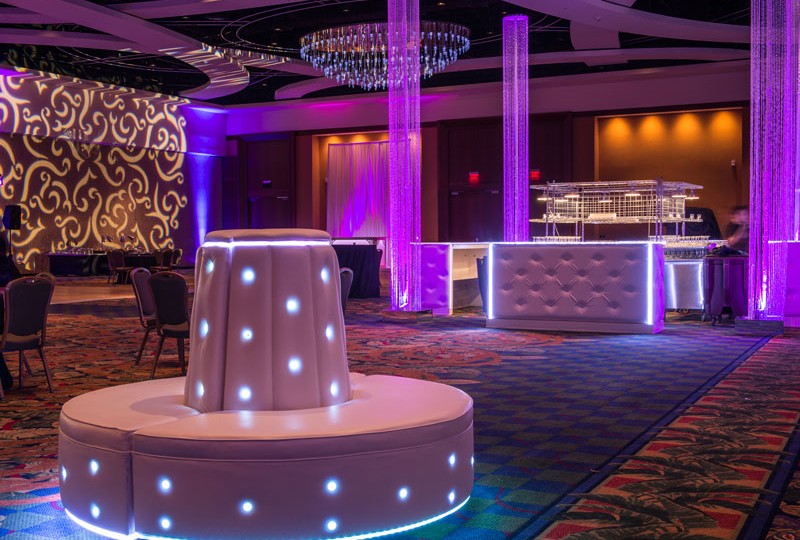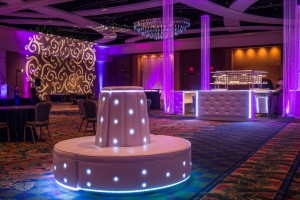 After the boom of themed events that followed the release of the Great Gatsby movie in the summer of 2013, the trend is showing no signs of slowing down. This is partly because the roaring 20's theme exudes a sort of glamour and poise reminiscent of the era, not to mention the fun attendees could have dressing up! The theme continues to be perfect for award shows, holiday parties and welcome or closing receptions.
That being said, event planners should expand their ideas of what a Great Gatsby event should look like, beyond the cliché. Of course feathers and vintage cars are great design elements, but they are not absolutely essential. You can achieve the same retro "Gatsby" vibe, while giving your event atmosphere a fresh take.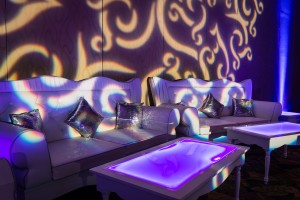 Break away from the traditional black and gold and give the theme an update with white bars and white lounge furniture. Don't be afraid to mix in lighted glow accents! Crystal beaded columns, sparkly pillows on vintage furniture and swirled GOBO lighting still echo the glamour of the era.
"A little party never killed nobody" and it wouldn't be a party without great music! We can help you find a great dance band that not only looks the part but also packs the dance floor! A silver string drape elegantly framed in soft white flowing fabric can create a stunning backdrop for your event.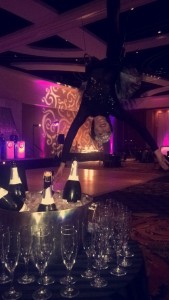 Let the champagne flow! Having an aerial bartender in a themed costume pour your guests champagne while hanging from a chandelier will definitely create a memorable, "wow" moment.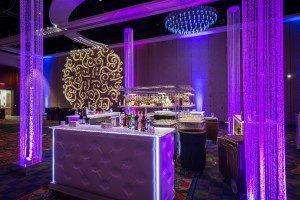 Just because you're hosting a Great Gatsby themed event (again) doesn't mean that it has to be stale. You can achieve the same 20's upscale look with a fresh modern twist by adding colors, textures and fun entertainment. For more design ideas, fee free to give us a call or send us an RFP.