The entrance to an event is a key component of the overall design. It is the attendees' first impression of the event – and we all know how important it is to make a good first impression! From the very beginning, the entrance awes, captivates, and excites your attendees; it communicates the tone for the rest of the event. The idea is to have a visually stimulating entrance that is not only attention-grabbing but also creates anticipation for what's to come. Luckily there are places similar to like SNA Displays that may be able to give you the visually amazing entrance you are looking for. Here are 9 great ways to make an impactful entrance into your next event:
Living Red Carpet
The infamous red carpet at the Academy Awards is an iconic entrance and Hollywood celebrities definitely know how to work it. You can achieve an elegant red carpet entrance with a living red carpet. This twist on the classic entrance allows attendees to walk a long red carpet as usual, only to find out the carpet is actually the train of a beautiful model's gown.
Driving Success
Who says that the only carpet leading into your event has to be red? A road carpet accented by an arch with custom street signs is perfect for a driving themed conference reception, tradeshow or registration. The directional signage is not only visually creative but functional as well. You can get signage like this for your event from somewhere like https://www.supercheapsigns.com/.
Zero Dollar Wow!
Here's a big wow that shouldn't cost a thing: Appreciation Applause. Have your entire sales team warmly cheer and applaud as your clients arrive to the event. Their smiles are contagious and it creates an overall happy, positive, welcoming atmosphere. Another alternative if you are having an employee or executive meeting is to ask your hotel to have their employees be that appreciation line.
Video LED Wall
For tech-savvy clients, use large LED panels with their logo or message for maximum impact. Incorporate conference artwork into static images or moving graphics for a visually stunning entrance.
Make it Live
Create a buzz at your entrance with live entertainment such as drummers, street buskers or shadow dancers. If you're planning to have a red carpet, consider adding live "paparazzi" to give your attendees the ultimate star treatment.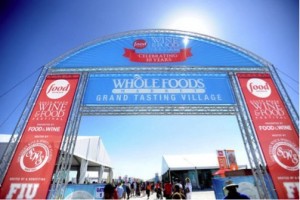 Say My Name, Say My Name
Logo placement during an event can increase a sponsor's brand awareness and customer support. Leverage these benefits by offering your sponsors maximum visibility at the entrance.
Step and Repeat Alternatives
The trend for step and repeats are shifting from the simple repeated logos on a wall and are becoming more 3-D. Opt for a flower or green hedge wall, a chalkboard wall, a wall with giant letters or a wall displaying the brand's products as your entrance.
Image Projection
Projection mapping is quickly becoming an incredibly adaptable and creative tool for event planners. Enhance an existing building façade with static branded image projection or with a visually stimulating moving graphic using video mapping.
Tunnel Vision
Creating a tunnel is a great to "transport" your attendees from one state of mind to another, particularly for events that are themed to another era. Experiment with different materials such as spandex, balloons or inflatables.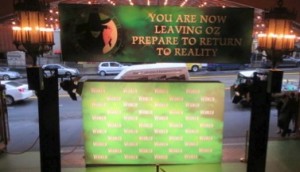 Bonus:
Double-Sided Entrance
Remember, the going out is as important as the coming in. A double-sided entrance not only helps cut costs but is also a great opportunity leave your attendees with a final, memorable impression. A personal "thank you," swags bag and branded goodies are all ways to show your appreciation to your attendees.
We are experts in designing awesome entrances that will captivate your audience and deliver on your goals. For more ideas, give us a call.