It's the beginning of the year and you know what that means…it's time for corporations all over the world to do their annual national kickoff with their sales teams. These meetings' objectives are typically to inform, educate, engage and inspire their sales teams to accomplish the goals set for the new year. Sometimes, sales teams will meet more often throughout the year, meaning that employees need to have new ideas and techniques to increase sales. To make sure the team knows the deadlines they're working to, they could consider incorporating a business calendar from Bamboo Solutions, for example, onto their computers. This ensures they all know when the meetings are, helping them to monitor their progress ready for the meetings. Hopefully, the employees should be able to bring some new ideas to the table.
Since national sales meetings are so important for the company, it can sometimes be difficult to keep coming up with new and unique ideas. Here are 5 ways to engage your sales team meeting:
Start Early to Inform and Engage
Theming the conference helps deliver a fresh perceptive each year. Get early buy-in with awesome graphic designs and motivational taglines. On-site, use dynamic digital signage and motion graphics to vividly deliver that theme. Digital signage is a fantastic way to entice customers so check out some digital signage solutions to promote your products.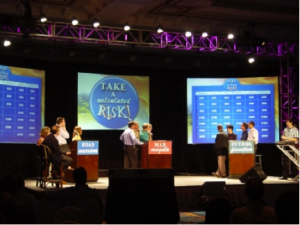 Educate and Engage with Tech Tools
For better knowledge retention, spice it up by doing interactive game shows or using audience response technology. Apps are becoming easier and more inexpensive to make; try creating a custom app to encourage problem solving and networking meet-ups.
Entertain with Awards and Recognition
Hiring a professional comedic emcee is a sure-fire way to keep the energy and excitement going at your award show. One of our favorites local to Las Vegas is Gordie Brown, who can definitely rev up your recognition. Rewarding top sales, announcing the incentive program winners and recognizing outstanding achievements are just a few proven methods to increase engagement. Browse through hundreds of great award options here.
Navigate the Uncertain Waters of Change
Is your sales team or organization about to undergo a change in structure? Your executive leadership could get training from this company to help bolster them for the times ahead, to learn and adapt for the changing conditions of the market place. Additionally, for more tips and inspiration you could consider attending an event from change management professionals at the ACMP (Association of Change Management Professionals) conference, which will be held in Las Vegas in April 2015.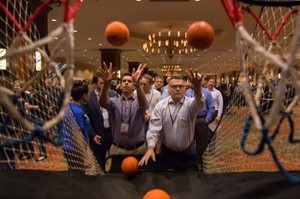 Inspire by Giving Back To the Community
Having your employees participate in a community outreach program or a CSR event is very inspiring and rewarding. We have designed many win-win customized teambuilding events that inspire the sales teams, educate them and also give back to a local charity. Recently we helped a top banking technology company "Make Wishes Come True" for a local Boys and Girls Club. A sales team member and participant of the event said, "I am so proud my company did this, we really did something good to help this community. We had fun and it felt really great, I can't wait to do it again next year."
Give us a call for more ideas on creating an engaging and successful National Sales Meeting.