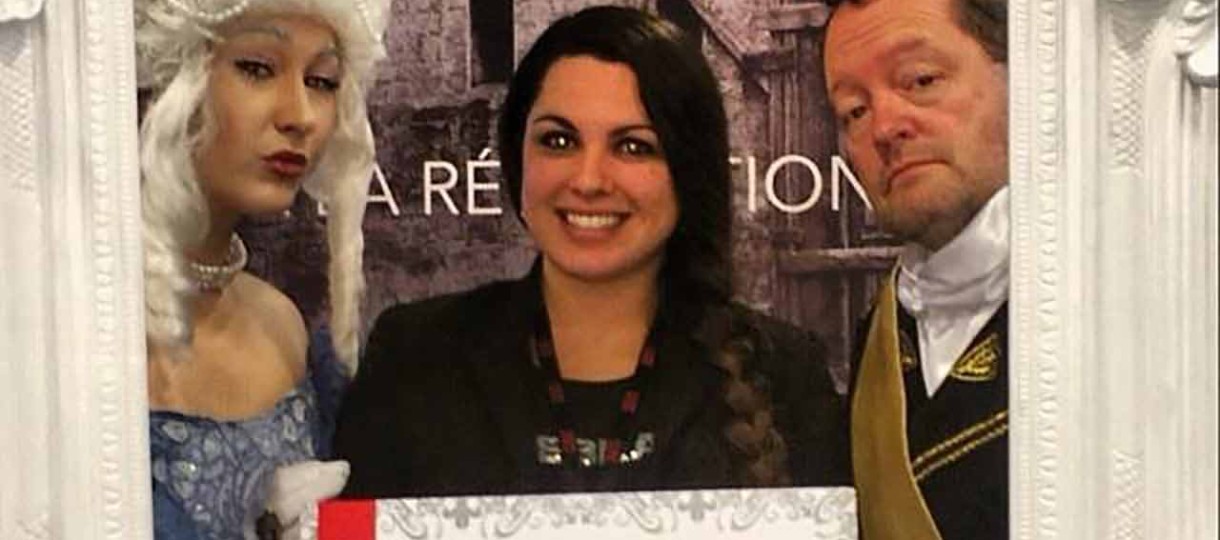 It's that time of the year again; time to come up with the greatest idea on how to increase attendee engagement in your trade show booth this year. How are you ever going to top last year? Whose brilliant idea was it to increase your goals 300% more than years past? No need to worry, we're here to help!
Crowd-Pleasers
Money money moneyyyy!(Did anyone else accidentally sing that out loud? Oops.)
Cash Grab machines are still top hits at trade shows. For this one, we incorporated a raffle aspect to it. Winners could bid on items such as a Marilyn Monroe poster with "dollars" they won in the machine. you could do something similar if you get posters or small prints made by a company like IPW1 before the event. Since it was a 3-day conference, attendees started making a competition out of how much they could earn. The bigger the crowd around one, the more people that want to participate! You can also have a prize wheel or a promotional robot in your display area in order to attract people and engage them with whatever you have to offer (think tradeshow special).
Smiling Staff
Sure, I can go ahead and tell you that you need a "booth babe"… but that's just not how we work around here. I've read through others' post-conference/trade show reviews and overall, smiling makes all the difference. Make sure whoever is working the booth actually wants to be there and wants to promote whatever your company has to offer. In the picture above, we provided themed staff to go along with the "bier garten" that the client was putting on for attendees. Free beer the last hour of the trade show? Guess we'll stay here the entire time! Presentation is key for trade shows so you might want to buy some Trade show table covers to make sure your stall stands out from the crowd.
Theme It Out
Get creative with your booth! Theme it out and have themed staff there too! It doesn't matter if you're trying to sell staples to a target audience of 45+ year old men…everyone likes a little themed interaction here and there. It just shakes things up from the ordinary. The reason you're at a trade show is because you want to stand out from your competition, right? Here's your chance! You can check out something like Exponents trade show rental Chicago if you want a fancy exhibit before your upcoming trade show.
PS: If you have no idea how to do this… this is where we're experts!Call us for expert creativity.
#SocialMedia #Swag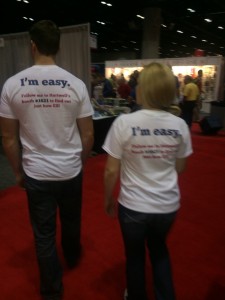 Here's a shout-out to CORT and their interactive trade show booth in January at The Special Event Conference. When thinking back to my favorites, they immediately crossed my mind. This trade show booth was themed (recap tip above) in a Victorian-era feel and they had themed characters to go along with it! What made them stand out? If you took a picture in their custom set-up photo station and shared it on your social media with their hashtag, you received a free t-shirt. How cool! Social media + swag = trade show engagement.
Outside The Box
When planning the design of your trade show, think outside the box. Sure, you want the actual booth to create engagement, but why not lead or guide people there with strolling staff? The ones above sparked curiosity and interest in the product. We literally followed them back to their booth to see what their shirts were about. Be unique and creative in your design. Who knows? Maybe you'll be the next trendsetter!
Bonus: Make it smell good! Offer aromatic food, candy or coffee in your display area. You can place these towards the back of your booth that way attendees have to actually walk inside your "box". It creates yet another chance for attendees to meet and connect with your booth staff! (You could always trick them by hiding a scent machine… unless your staplers smell amazing already, then you win.)