We recently took a trip to one of our linen partners' showroom to see what the
trends and patterns are for the upcoming winter season. The jingle bells are ringing
in the distance, and it's time to begin planning for the holidays.

All That Glitters
"Sequins are here to stay!" exclaimed Jennifer Welsh of Over the Top, Inc. These embroidered fabrics were once thought to be reserved solely for weddings, but
corporate planners can now use them in creative ways. For holiday parties, pair a
sequined linen with solid colored table accents and non-floral centerpieces to
balance the sparkle. If you're budget conscience, drape a sequin overlay over hotel
linen or opt for glittery table runners instead.

Color Combinations
Brown and orange (Thanksgiving), red and green (Christmas), black and gold (New Year's Eve); all of these combinations for the three major holidays are overdone and expected. Experiment with other color palettes that portray the essence of the holidays in a trendier way. Champagne is the star color for this fall season and looks great paired up with copper, hunter green or eggplant. Also trending this winter
season is blush, gunmetal gray, and frosty blues. Play with either warm or cool tones
to see which one fits best for your event.

Geometric Patterns
For the holidays, we are seeing geometric patterns become larger and bolder than ever! "Don't fear the patterns, embrace them," says Jennifer. Be bold and try putting different patterns together. Taking the risk may be worrisome, but it has the potential to leave you with stunning results.

All About the Layers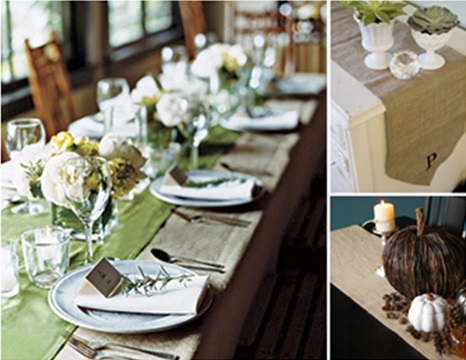 Create depth and complexity by layering linen in different sizes and patterns. For
example, try placing square linen on round tables and vice versa. Having opposing
but complimentary textures will bring variety to your table designs. Pair a rustic
textured burlap over a smooth satin for a fresh fall look or a crushed taffeta with a
sheer metallic overlay for a softer finish. Also, try experimenting with the tables as a
whole; mix and match three different table designs or use linen to create a color
gradient throughout the venue.
As event designers, it's easy to play it safe when it comes to linen, but taking risks
by experimenting with patterns and textures will not only help break you out of the
creative rut, but will also impress guests with the unexpected. Contact us or checkout our Pinterest for more inspiration. We'd also love to hear your best holiday tablescapes and styles.