Last week, I shared my favorite event décor elements and meeting locations in Part 1. In continuing with our outdoor theme, here are some pro tips on designing for outdoor events.
Site Plan

Depending on how remote you want to go, you are going to need a restroom plan, at least some flat elevation, a power requirements plan, liquor and noise permits, security, parking, and the list goes on and on. Make sure that you acquaint yourself with all of these necessary tasks such as looking for more information on the security you'll need to meet legal requirements, or better yet, just call me!
Designing for Wind

There is almost always a wind blowing just in time for our perfectly planned events. It might not be there while you are setting up, but don't let yourself be fooled. If using feather banners, truss towers or other tall décor elements, make sure you stake them into the ground or use sandbags to hold the base secure.
Picture compliments of Party Guys Event Design!
Sand Bags – Sand Bags – Sand Bags!

Bring more sandbags than you think you'll need and then make sure you find an interesting way to disguise the "ugly." Low foliage-like ferns (like the ones used above), fabrics or even branded boxes are great ways to do this.
Fighting the Heat


A set-up outside can be taxing on the body in any season and in any setting, so always bring lots of water and plan a five minute break for every hour on your production timeline. Yes, it slows down load-in but heat exhaustion will slow you down even more. Also, your client might want to re-hydrate once they spend a few minutes checking on the progress.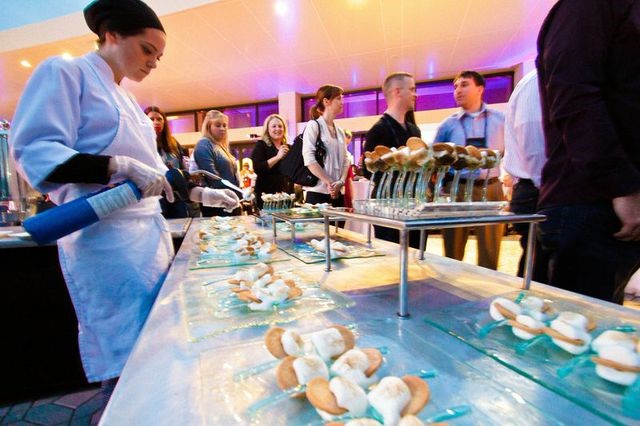 Catering


Select your caterer carefully – ask them how many outdoor events they've done, and how they plan on cooking. Also, pay attention to who your guests are. Some "foodie" guests may prefer fresh food prepared on site. In this case, prepping in a behind-the-scenes commercial kitchen and bringing in hotboxes might not be the most ideal situation. Find a caterer that has a full-on rolling kitchen, or if doing a casual style event, opt for on-site smoker and grill.
Back Up Plan for Weather


Of course if the weather does change on you, you really need a feasible back up plan. A great way to avoid a hectic situation is communication with your guests. If your event is small enough, communicate beforehand that in case of inclement weather there will be a venue change. Then on the day of the event, send out a mass message letting them know where to be.
For more tips on designing for summer weather or if you need some assistance designing an amazing outdoor event, call us, we'd be happy to help!