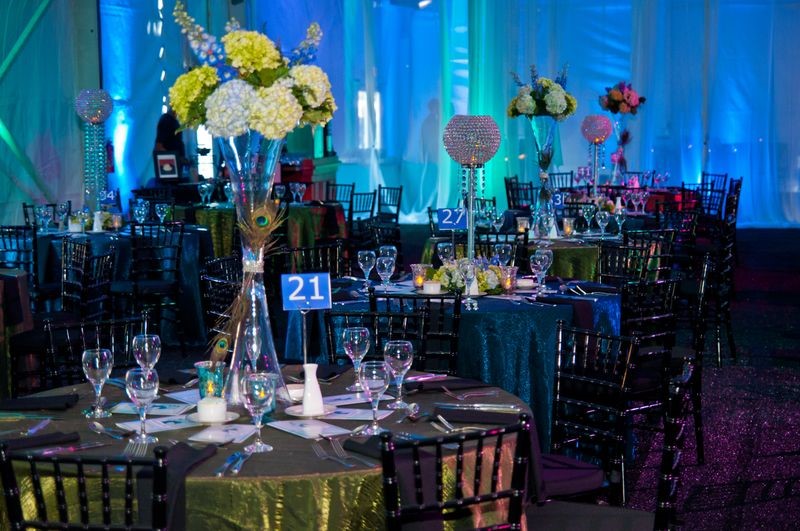 Summer is here and the weather is beautiful! Al fresco events can be magical (if the weather cooperates, of course). When the sun is out, events can be beautiful outdoors. However, the sun can sometimes attract a range of different pests. Any event planner will need to consider this, so it might be worth contacting a company like https://www.pestcontrolexperts.com/pest-control/ to manage these pests before guests attend the event. That should help everyone to have a comfortable evening. Let's put on our "the weather will be perfect" goggles and talk about outdoor events. With beautiful weather, there are so many things that can be incorporated into an event; outdoor stages, fairground rides and beautiful fireworks, like the ones provided by Lockstock Fireworks. For more than 16 years I've been producing outdoor events; some on a grand scale with thousands of corporate attendees, others involving food and wine festivals and plenty of intimate VIP parties. I am happy to share some fun décor ideas and favorite locations.
Great Gadgets and Design Elements
Battery Operated Lighting
This is hands-down my favorite new invention for outdoor events – no need to worry about getting a power source or having a trip hazard with power cords or fire issues with tiki torches. The magical power of an LED uplight with programmable color changing technology can paint a colorful canvas on landscaping, trees, tents, buildings and any element you add to the space.
3D Projection Mapping
The hottest new technology trend of the year is 3D Projection Mapping. It is the perfect way to completely transform a space that has a big wall or building. It may be a big budget item, but if you want to really WOW your attendees this will do the trick.
Holograms
If you want to go one step further with your visual effects, you can introduce something truly revolutionary: holograms. These impressive spectacles really must be seen to be believed. Whatever your event is, speaking to someone like Kaleida about what you have in mind for your project can lead to them conceptualizing, creating and implementing something truly jaw-dropping, no matter the scale.
Market Lights
These versatile lights are reminiscent of yesteryears gone by and small town festivals, but they still help create a happy atmosphere. Market lights are available in many forms to match a variety of themes. Battery operated LED versions are also now available.
Feather Banners
In my opinion, feather banners are a must for any outdoor event – they provide a pop of color, height and movement. This classic visual enhancement can simply be used to add a whimsical touch, or it could be branded with sponsorship.
Learn More
Portable Staging
Building, transporting, and setting up a stage outdoors can sometimes be a challenge. Consider renting a portable stage like this one from Rental Stages, Inc. to eliminate some of that hassle. You might also find it more cost effective than having to build one yourself.
Some of My Favorite Spots
Destination Event
The "Party for the Senses" grand opening of the Somerset Resort on Grace Bay is still one of my favorite events to date. Not only was it on the remote end of Turks & Caicos, but the resort itself is breathtaking! For the grand finale, we hired a local Junkanoo crew that led the attendees out onto the beach for a spectacular 10-minute firework show directly over the beautiful bay illuminated by a full moon. It was sensational and a huge recommendation for future events.
Tip: When planning international events, sometimes it is more cost effective to leave all event elements there than ship them back. We had to ship in several containers full of event décor supplies and costumes for over 20 specialty performers. It was more economical for us to buy new replacement equipment than to ship it all back, and the resort was thrilled to acquire some event elements to have on hand.
Poolside Event
Large resort pools at places like Mandalay Bay in Vegas and the newly designed Orlando World Center Marriott pool are excellent for large convention groups. For a pool party with a flare, the Marquee Club in Vegas has an awesome pool deck that is great to highlight "floating" performance platforms.
Lakeside Event
If lakeside is more your style, the Orlando area has many lake area event spaces – Hilton Orlando Bonnet Creek and Disney's Dolphin Resort are two that I would recommend. However, my favorite hidden gem in Orlando is Paradise Cove. It's an intimate lake front perfect groups of 200 and under.
To see an extensive list of venues with great outdoor spaces or if you need some help planning your outdoor event, call me and I'd be happy to assist you!