When planning conferences or events, meeting planners often focus on the logistics of transporting large groups of people. Sometimes the end destination features all of the interaction and excitement of the event, but the ride there is no more than an afterthought. One way to break out of this rut and to make the WHOLE experience memorable is to carry out the theme or experience into the buses as well. Using a decent transportation company will help this go off without a hitch, bringing excitement at every opportunity. There are different types of transport that will be available, so it is best to do some thorough research first, not only in the case of financial costs but to see if the company you are using is reputable. They will need to be up to date on their risk management (Lytx), as well as being compliant with all the rules and regulations so that safety is of key importance at all times, and a fun day can be had by all.
Lisa Jacobson, Senior Director of Event Management at Universal Orlando wrote an article in Successful Meetings, 'Creativity Counts' and she nails the idea. It's important to "stick to your theme" so that the attendees are immersed in the experience before they even step in a ballroom. Having live entertainment, a signature cocktail or a branded giveaway helps to tie in the theme, while providing a twist of unexpected creativity. It's a great way to get the attendees excited for what's to come!
We recently had a group going to Universal's Marvel Island in Islands of Adventure, and we decided to start the superhero experience before they stepped foot in the theme park! The group met in a ballroom for some refreshments and received a surprise visit from Thor and Green Lantern. These costumed superheroes provided a great photo opportunity for the attendees!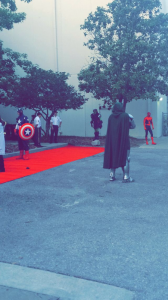 We also passed out fun "super-power glow-sticks" and color changing LED glasses. The overall atmosphere was electric with the attendees' excitement! It provided the perfect segway into the Marvel superhero themed event they attended later on that night. When they reached their destination, the attendees were greeted by more superheroes as they walked down a red carpet with live music and exclusive access to the park.
Transportation doesn't have to be boring; it can be a great opportunity to get creative and make the entire experience unforgettable. Give us a call more more ideas on making transportation fun!