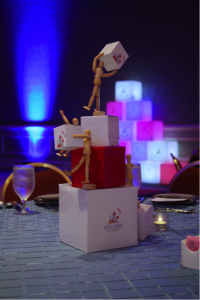 This past year, we were asked by one of our clients to design some "out-of-the-box" décor pieces for the stage, as well as the centerpieces and perimeter décor. The theme of the conference was "Building on the Best" and the client asked that we incorporate that into the design.  As you'll be able to note in the pictures shown, we went back to the basics – building blocks.
The night prior to the Awards Ceremony, we teased the attendees with some of the giant LED building blocks for their outdoor evening reception. Using the same or similar décor pieces throughout a conference is a great way to showcase what's to come. It keeps the minds of the attendees constantly running, can generate an awesome brand awareness ROI, and is usually more cost-effective for you.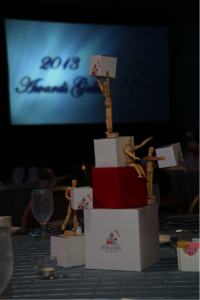 For the centerpieces, little mannequins were structured in a way that made them look as if they were literally building the blocks. Guests absolutely loved this idea and ended up taking home mane of the mannequins as keepsakes of the event.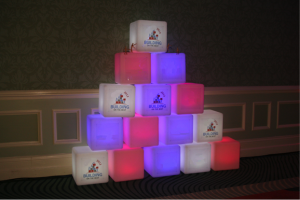 We felt it best to show the building blocks that would later be shown on the stage for the Awards Ceremony while everyone was walking into the space.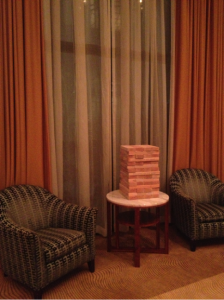 Bonus: To keep along with the theme of building, we also provided customized giant "Jenga" games throughout the space. Attendees sure had a kick bringing out their competitive sides. Call us today for a creative spin based on your conference theme!