Statistics
Opened: January 2011
Meeting Rooms: Total of 5 spaces (between inside & outside).
Sq. Footage: 9,782 of meeting space
In-House A/V: RJR (Raymond James Community Room) has a drop-down screen and built-in projector. There's also a theater room.
___________
Looking for a unique venue in Florida that is as surreal in its event space as it is in its architecture? The Dali Museum is perfect to host groups both big and small, with interesting meeting spaces for your next event. Located in St. Petersburg, Florida, it houses the second largest collection of works by the Spanish artist Salvador Dali. This unique museum event venue allows you to get creative with the event design and activities for your group.
Yes, this magnificent building is available for private events. The building itself has been named one of the top places to see or museums to visit before you die, featuring an asymmetric glass structure known as "the enigma."
The Gardens
The gardens consist of the West Garden, the Grotto, and the East Garden. This outdoor location would set the perfect atmosphere for a tea party or art show! Complete with a labyrinth and a wishing tree, this space is sure to open up guests' minds with the power of surrounding art.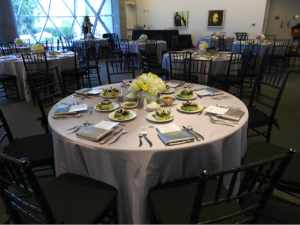 Raymond James Community Room
            Housed on the first floor of the building, this room has the "enigma" as one of its walls, which looks out to the Labyrinth outside in the East Garden. The space includes a drop-down screen and in-house projector.
Helix Staircase
The Dali features this unique architectural structure – a helix staircase – recalling Dali's obsession with spirals and the double helix shape of the DNA strand. The staircase is the "center" of the museum and allows you to arrive at the second and third floors.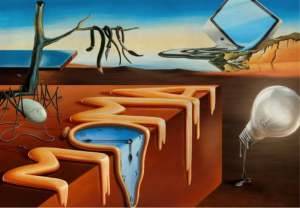 Galleries
The two galleries are located on the third floor. Although they are open to the public during the day, the galleries are included for guest viewing during an event. Audio guides can be provided for evening events.
 Break out of the box and get creative with your venue! We're loving the idea of a wine & art class! Call us today to plan an event at the Dali Museum.