Recap of Winning an Event Style Award and a BizBash IdeaFest Recap

A New Yorker does in an instant what a Floridian would take a minute to do. So we entered, got nominated and I bought a ticket to the Big Apple. Found this cool little hotel walking distance to the venue where part 1 of the 2 part awards would be, the Yotel. I am instantly a fan; small and just the right amount of hip.
Landed at JFK at noon, check in, called a friend to go get some awesome Thai food and headed to the club for a 6:00 p.m. start.  Notice I didn't say I had to put on a ball gown, do my hair and nails or even put on heels, or go to a rehearsal.  I showed up in my nicest street New York blacks: leather coat, cute hat, scarf, jeans and boots.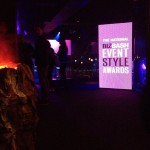 The XL night club was looking fab and Bizbash had appropriately branded it out.  The opening act was an awesome display of new entertainment called Extreme Beam, provided by my friend Paul Creighton at T.Skorman Productions. (Side note: contact me to get a great rate on this new act!)
Click here to see the Extreme LightBeam!
At 6:30pm Richard Aaron takes the stage, and states this is going to be a fast awards show so we can go back to networking. "Ok, let's do this…  First up: "Best Teambuilding Event." Winner: Exhilarate Events." I yell "woohoo, woohoo that's me!" I remember because it was kind of quiet and I was kind of loud, and just then I realized that maybe 99% of the room had no clue who I was. It goes quiet for a pause and I think, "do I go on stage or shake a hand or take a photo op?"  Before I can even react Richard says "next Up, Best Catered Event… Puff n' Stuff Ca"…..wait what just happened?…where is the photo op, the shiny trophy and the hand shake? I think to myself, "okay Stacey, chill and go with the flow here, you know when in Rome, or NYC…follow the New Yorkers' lead." In about 10 minutes BizBash had successfully delivered 29 of their 46 awards….whew!  Who said it couldn't be done?  Afterwards, I did shake David and Richard's hand, and got a pat on the back.  As for the award and photo op, I need to head to the IdeaFest in morning to pick it up.
Fast forward to morning at the Javits Center: lots of vendor booths, eye candy, entertainment and samples to keep me busy for a few hours.  Here are few of my hightlights (or at least the pictures I could take before my phone died.)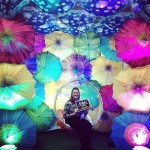 PBG Event Productions showed off their Ring Lounge Chair, where attendees could sit in for a photo op, surrounded by colorful umbrellas.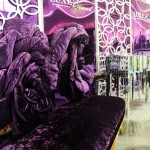 Luxe Event Rentals showcased their new velvet D'Rose sofa in plum among other glam pieces. Absolutely love this royal color!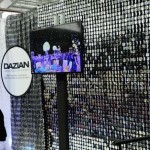 Dazian presented an eye-catching look, debuting their brand-new Shimmer Wall and Scallop drapes at the show.
I board a plane at 3:00 p.m. with shiny trophy in hand, headed back to FL.  The lyrics from my favorite band of all time in my head…"in a New York minute anything can happen…" by the Eagles.  BizBash National Event Style Awards and Ideafest; one great minute of my month.