As we prepare to wrap up 2013, we look back on event trends that have been inspired by pop culture: farm to fork, superheroes and fairytales. Still, the most popular event trend of 2013 has been the 1920's era, "Great Gatsby". The summer blockbuster starring Leonardo DiCaprio that featured impressive scenes of the billionaire's decadent parties stirred the frenzy. From small intimate dinner receptions to large corporate conferences, the 20's Gatsby theme is perfect for all occasions.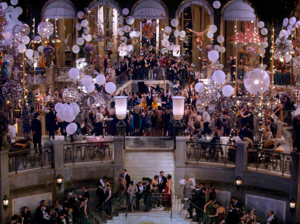 In order to replicate the opulence of the movie, you will need to decorate your space with large crystal chandeliers, white drape swags and gold accents everywhere. Next, place white floral centerpieces dripping with pearls and topped with white ostrich feathers on top of crystal candelabras. Lastly, sprinkle sparkling gems around the table or add fun elements like faux rings, beaded necklaces and noisemakers for a less formal feel.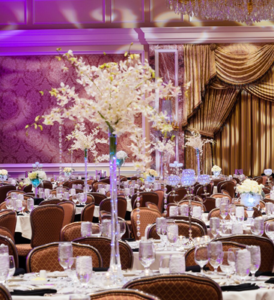 Jay Gatsby's parties were over the top, so take your décor up a notch by covering the entire space with balloons in silver, white and gold. Then, add shimmer curtain backdrops, crystal columns and faux windows to give the illusion of being inside the mansion. Just finish off with a confetti cannon at the climax of the night and the décor is complete!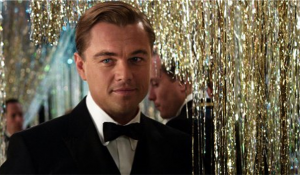 Entertainment is vital to keep the energy going. Hire a 1920's style band with vintage looking flapper dancers to fit the theme. In addition, add a photo booth with fun costume options like headbands, hats, beads and feather boas to encourage audience participation.
Lastly, it wouldn't be a Gatsby party without champagne. Have a champagne toast as you celebrate the night or set up a champagne tower display for guests to see as they walk in.
Although it was a popular theme in 2013, the Great Gatsby theme is a classic that will never go out of style. So let the champagne flow and contact us about making this dream environment a reality.