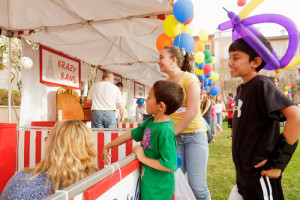 Exhilarate Events is recognized by event industry leader BizBash  as an award winner at the first National Event Style Awards.
November 14, 2013 — BizBash, the leading trade media for event and meeting organizers and event marketers, has announced the winners for the first National Event Style Awards. After reviewing thousands of submissions from across North America, a panel of meeting and event experts named Exhilarate Events as the winner in the Best Team Building Event or Program category.
"The event landscape is continuously evolving, and as an industry we are always looking for innovative brands, companies, and events to learn from," said BizBash C.E.O. and founder David Adler "We are excited to recognize Exhilarate Events as an event leader and innovator in this industry."
"We are proud to be recognized as a national leader in event planning. At Exhilarate Events, we take pride in "wow"ing our clients with world-class events. We are glad that we received national recognition for what we love to do",  said President of Exhilarate Events Stacey Paul Barabe.
With 20 years of experience managing events and conventions for top clients like IBM, FiServ, Johnson & Johnson, Exhilarate Events is the brainchild of Stacey Paul Barabe, who is well-known in the Orlando Conventions and Events Scene.
ABOUT EXHILARATE: Exhilarate Events is an award winning international event planning and experiential marketing agency located in Orlando Florida. www.exhilarateevents.com
Exhilarate Press Contact: 
Selina C. Mullenax
Marketing Manager
Cell: 727.389.6019
Selina@ExhilarateEvents.com  
ABOUT BIZBASH:
BizBash is an innovator and resource hub for the event and meeting industry with its Web site, live events, and magazines. Event organizers responsible for events such as White House state dinners and the Oscars, as well as conferences, trade shows, fund-raisers, and more, use BizBash products regularly for ideas and best practices that can be implemented at their own events. Full list of prize winners at http://www.bizbash.com/announcing-the-finalists-for-the-first-national-bizbash-event-style-awards/new-york/story/27065#sthash.QFrL4eys.dpbs
BIZBASH CONTACT:
Grazia Mohren, 646.839.6896, gmohren@bizbash.com