Just like last year's SEC, there were almost 500 attendees registered. Will next year's reach over 500? Taking place in the beautiful Amelia Island, the conference had many notable highlights including the "networking island," educational sessions, themed lunches and the nightly after-parties. With that being said, below are the top three memorables from MPI SEC 2013.
Welcome "Shipwrecked" Reception
Besides the lovely furniture pictured above, the opening reception was complete with games and live music (Volcano Joe & Hot Lava!). The entertainers that walked around were dressed like pirates and served as a great photo opps too! The food was amazing (complete with shrimp on ice) and the bar was a "shipwrecked" pirate ship. The weather had a cool breeze (after fear of rain all day) and the atmosphere was welcoming
which made networking that much better.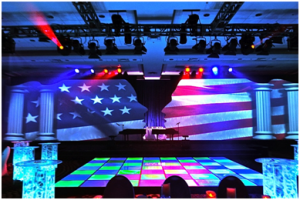 Keynote Speaker: Laura Schwartz
As the White House Director of Events, Laura created events that represented a nation and inspired the world. Through an entertaining, enlightening and motivational program, Laura delivered her top tools that we can put to work immediately both in events and in networking during the conference. Staying throughout the conference all the way until the closing dinner showed how she truly was there to interact and help us "Eat, Drink and Succeed."
"Under The Sea" Closing Dinner & Live Auction
Walking into the space was breathtaking… and as a planner, I loved all of the little details. I have to admit that my favorite was the real-life fish tank which served as a seafood buffet station. So clever! Add some dueling pianos, a light-up dance floor and a live auction and you've got yourself an "Under The Sea" experience like no other! PS: Where was princess Ariel in all of this? (Yes, I belong to the Greater Orlando MPI chapter.)