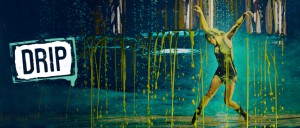 Are you on the hunt for the newest and hottest artistic venue in Orlando? With rooms designed as blank canvases, we can custom-design a full-on creative event for you or your client! The entire place is 100% waterproof and the walls are all painted with black chalkboard paint.  Plus, a performance is available for which TheDailyCity.com called "a full on assault to the senses. If you took a poncho to Blue Man Group you'll need a hazmat suit here!" Curious? Keep reading for a glimpse into "Orlando's newest cultural gem," and what we consider to be a venue to explore creativity, communication, trust and fun!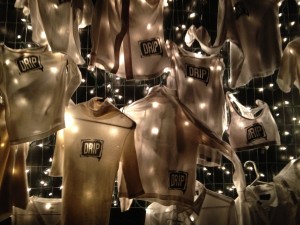 One can try to get information about if from their website or facebook page, but even after all that, we were still confused on what exactly DRIP is and how to describe it to people. So the exhilarate team went on an adventure to check out this artistic show.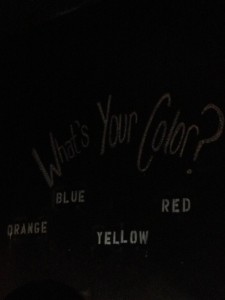 DRIP is located down a dark alley behind Denny's and Senor Frogs on International Drive. As you walk to what appears to be a loading dock, you initially get the sense of a dive bar – the room is dark and feels cool, and smells of a mixture of paint and sand. After passing by the box office, you find a painting station with four colors: yellow, blue, red, and orange. Each color represents a different emotion or feeling, which you later find out becomes an integral part to the story in the show. Be sure to paint your friends as you wait for the show to begin and try their colored beer!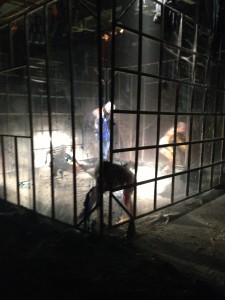 Even if you escape the painting station, you are sure to get wet and painted on at some part during the show! Just when you think you've dodged everything, a little more beer, paint, water, sand or even clothing comes flying your way. As an audience member, you surround the "stage" which is a blank space in the center of another dark room where the performers tell their story. While there is no spoken word throughout the entire performance, it's easy to catch on to the story of intense passion and betrayal of love through their use of movement, lights, paint, sand, and live rock music.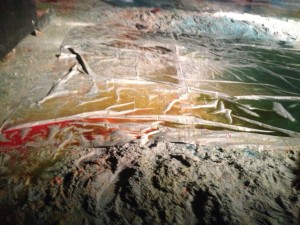 If you are on the search for something entertaining and different, be sure to contact us about DRIP.  Our creative geniuses have already come up with amazing teambuilding ideas for this venue! We also have added pictures from our adventure on our facebook and pinterest pages.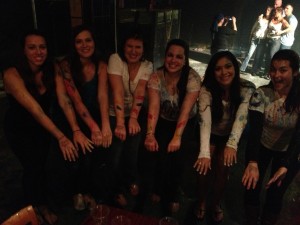 The boss is behind the camera for this one and we what to know how she escaped "un-colored."
I guess there is a secret dry zone….