The Special Event Conference and Show is the premier tradeshow of the year for those in the events industry. This annual show is key to learning all of the new, exciting and up-and-coming trends for the year, as well as to mingle with our industry colleagues. Didn't get to attend? We created this list of the top thirteen trends for your enjoyment.
Note: they are in not in any favorite-specific order. 🙂

Aerial Structures
From feathers to air-filled to LED pieces, aerial structures were everywhere this year. Each showcase event, and the tradeshow had a full array of floating or suspended eye candy like a trade show banner for example, in the ceiling for the attendees to enjoy. Some of our favorites were the uniquely designed flowers displayed at the tradeshow floor, and tg=he full-white feather pieces dancing with the city sky lights in the background displayed at the Opening Night Party. We think they add a beautiful touch to any event!
Aqualillies
And they're back! Since "The Modern Mermaids" were introduced in Chicago back in 1933, having the Aqualillies named as a "Hot List" item at TSE in Chicago, seems like a perfect fit! We've used synchronized swimmers (which combine swimming with dance and gymnastics) in past events, and we're thrilled to see the comeback! Routines and outfits can be themed to match that of the show, so they are sure to leave an impression on your attendees.
BrightBox
Alright, techies, this one's for you. And whoever created it is a genius! To summarize, it's basically a locker that charges your phone. You can bring a BrightBox to your meetings and events. An attendee swipes their card, opens the "locker" to charge their phone, and locks it until they return. It's secure and convenient, and we believe it will be popping up all over the place.
BonFyre App
We are app fans and this one is awesome! How many facebook friends do you have? Like 1,000, right? Does every single person you're connected to want to see all of the pictures from that networking event you went to last Tuesday? No, not necessarily. That's where BonFyre comes in handy. It's an app for your phone, where a "BonFyre" (pun intended) is created for an event, or a networking group. If interested, you join, and then you have all of the pictures and video from that one event in one place. How awesome is that? And of course, you're able to communicate with those people and share the pictures to your phone (or facebook, if you really want to.)
Bronkar
His picture does him no justice, and you really MUST see/hear this, so please do yourself a favor and click on his picture right now. (But hurry back to see the rest of the Top Thirteen!) Okay, you're back, do I need to say anything more? He's a rhythmic, beat-boxing, audience-engaging, juggler! Call us to book him! The end.
Check In Easy
This software eliminates time and paper wasted during event check-in registration. Google used this for an event with 600 people and there were zero issues to report. Multiple people can access the software at once, and there are no bugs or glitches. The founders are already working on the next step, which is to have name badges printed out, but we love their focus on one product at a time.
Cupcake Pod Machine
This giant vending machine made its debut at a Betsey Johnson runway show, and has been popping up in both luxury and social events ever since. The miniature cupcakes sit in pods and you use a token to get one. Once a cupcake pops out, you can use a cell phone app to match the colors of that cupcake and find out which flavor you were given. The rental includes the tokens as well as a recycle bin; how clever! A sweet branding opportunity awaits.
Dear World
Dear World is a movement. But we included it because it's a strong movement that can be added to leave an everlasting effect at an event. Whether there is a cause already associated with your event, or not, writing on skin with a black dry-erase market just seems to make a profound impact when photographed. Try it.
Dresses!
Looking to add a futuristic touch to your next event? The LED electric dresses as living décor, pictured above ,will definitely create that fun, whimsical theme. And if you want something even more spectacular, just add a twelve-foot tall dress in the mix! Not only do they liven up a room, but they make a great photo op as well!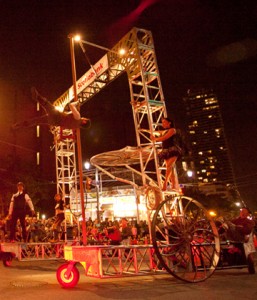 Gantry Bike
The American circus is reinvented, with the gantry bike being the newest creation. It can move through crowds and complete a whole 360 degree turn. All while holding up acts who perform on this moving machine! Can we say exhilarating?
LED/Glow
If you haven't picked up on this trend already, know that you've seen it three times already in just this one blog post. Adding a glowing effect with LED is sticking around for another year. Our favorite is adding this touch to luminescent trees or furniture.
Metal Mariachi, AKA: Metalachi
Again, this is another act that is easier to comprehend after listening, so click on the picture above to experience the one and only heavy metal mariachi band. To further explain, they're a mariachi band performing heavy metal music. Yes, you can now say you've seen it all.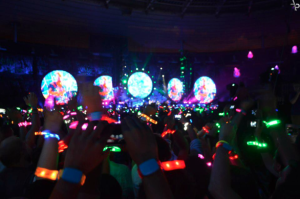 Xylobands
Yes, we're talking about LED once again. But this time via intelligent, radio-controlled, LED wristbands with custom colors and patterns. The bands can control up to eight different zones, meaning there will be different colors or patterns going off in various sections. Coldplay used Xylobands in order for their audience to be part of the show. What more could you ask for to create audience interactions and have an event truly come to life?
As you're probably on a creativity-high right now, and we'd love the opportunity to help you decide which of the newest trends are perfect for you upcoming event. Give us a call!