With award season in full swing with award shows back to back, competition over best in show is hot. These events capture the attention of millions of viewers at home. The performances, the content, the comedy – almost most importantly – the stage sets have to dazzle, excite, and entice viewers to stay tuned in without changing the channel. What better way to capture their attention then through flashy lighting, three dimensional graphics, videos, props and musical productions. But what the audience at home doesn't realize is all the detail and production elements involved to achieve these looks.
The trends in award season inspire us to take a closer look at these ideas to apply to our next client award show. Here are some top takeaways that can create a replicated look of super stardom. Awards celebrate accomplishments, so it's go grand or go home! You want your guests to remember the experience and sponsors to feel like they got that bang for their buck. Better yet, you want to be sure to always top your last one!
Backstage Correspondents
photo via zayzay.com
Backstage, behind-the-scenes correspondents are a dynamic way to add humor to your award show or even provide a change up between breaks along the show program. If you have the budget you can hire actors and comedic entertainers. If you want to keep it in house, creative scripting from your event company can make use of your most talented and charismatic personalities in your business or industry – in the way Miss Piggy & Kermit were the lucky personalities selected for this year's Oscars.  
Cheap and Cheery LED glow sticks
photo via digi10ve.com
As featured in our 12 trends from the 2012 Special Event show blog, these glow sticks reigned supreme among the crowd for DJ & Producer David Guetta's performance at the Grammys. Utilized for crowd excitement these LED glow sticks also added a mobile lighting element within the audience and created a multi-dimensional illumination on an otherwise dark crowd.
LED staging walls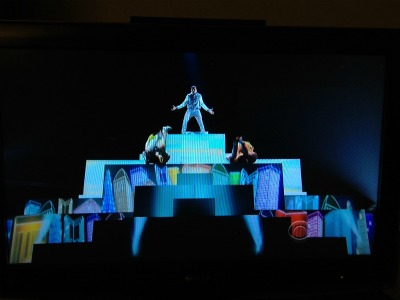 photo via glamour.com
Chris Brown's performance at the Grammys literally lit up the stage with every step he took. Modern technology and advancements with LED lighting and video walls made this completely possible for the eyes of millions of viewers. The multi- layered LED video wall also doubled as tiered step staging and was completely synchronized to every transition of each song he performed with every dance move he made.
photo via digi10ve.com
This effect was also replicated during DJ Deadmau5's set which included a larger than life DJ booth which mirrored different images, with lights synchronized to each beat as it hit. This technology isn't just a LA made for TV trick, many large convention cities have similar technology available.  
LED Panel Backdrops
photo via prettymuchamazing.com
LED Panel walls are amazingly bright and allow for so much graphic flexibility as shown at the 2012 Grammy awards.
LED panel walls are immensely popular in the event industry and made a powerful appearance at the 2012 Grammy awards. The Grammy stage production team used multiple freestanding LED panel walls, incorporating an ultra cool vertical graphic orientation with a combination of videos and photos as presenters announced each nominee.
Stage Props & Accents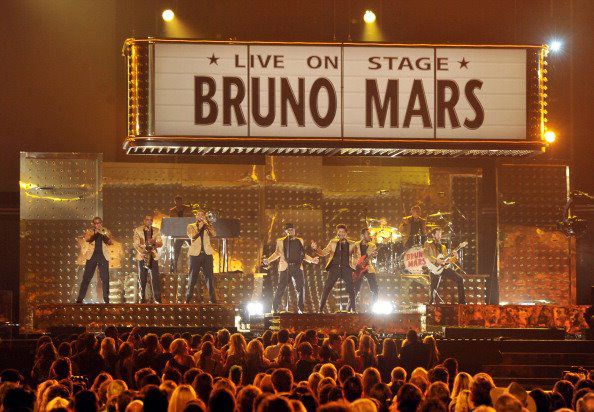 photo via woodshedperussion.com
Bruno Mars' performance at the 2012 Grammy awards
Stage props and accents are a sure-fire way to create more appeal for any entertainment performance. At the 2012 Grammy Awards, Bruno Mars and company performed under an over-sized suspended personalized Marquee, while chrome reflective temporary walls with complementing multi-level stage risers lent a unique accent to the stage design.
Branded Step & Repeat Walls
photo via reuters.com by danny moloshok
A series of Red Carpet Step and Repeat branded temporary walls at the 2012 Grammy Awards make for dream backdrops for marketers.
Among my favorite event aspects at any award show is the red carpet entrance area with the ever-present branded step and repeat wall. A vital element for photography and marketing purposes as event producers, marketing executives and sponsors get an archive of all guests that attended the event and receive massive press with their show logo. A design trend that we are noticing includes 2-color vector designs of the award show logo with a hint of a geometric design accent, as seen at the latest Grammy Awards.  
Widescreen Projection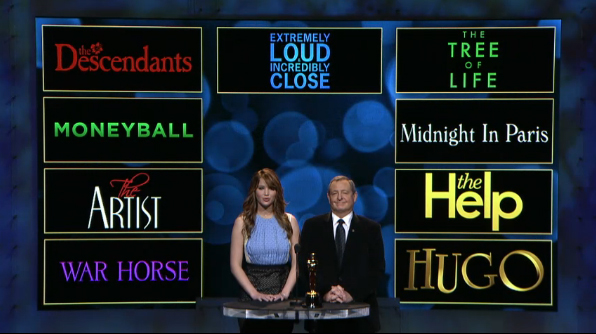 photo via frontowardsgamer.com
Widescreen projection in action at the 2012 Academy Awards, while nominees are announced.
Technology has come a long way, especially HD projection. Widescreen video projection has taken over in the production world, allowing for lighting designers and technical directors to create realistic graphics that span the entire length of a stage with amazing sharpness and 3-D qualities.
Ceiling Treatments: Decorative Chandeliers
photo by PictureGroup via emmys.com
Design accents are sometimes icing on the cake at any award show. Not only do they make for unique ballroom focal points, but they can take the emphasis off a minimalistic stage design. LED florals suspended in clusters created an enchanting chandelier at the 2011 Emmy Awards. This design accent also lent an interesting lighting effect during transitions throughout the intermissions between award announcements. 
Window Pane Stage Backdrops 
photo by PictureGroup via emmys.com
Adding texture and depth – frosted window panes as a background to the stage set added a lovely touch to the 2011 Emmy Awards.
photo by PictureGroup via emmys.com
Frosted window panes with alternating color LED up lighting behind the panes are a great way to add depth to any stage set. Another option to add further customization, is branding the panels in alternating graphics. This way, your message, or award image and award name can be featured as well.
What ideas inspired you to take into consideration while planning your next awards gala? Share and compare, we want to hear from you!