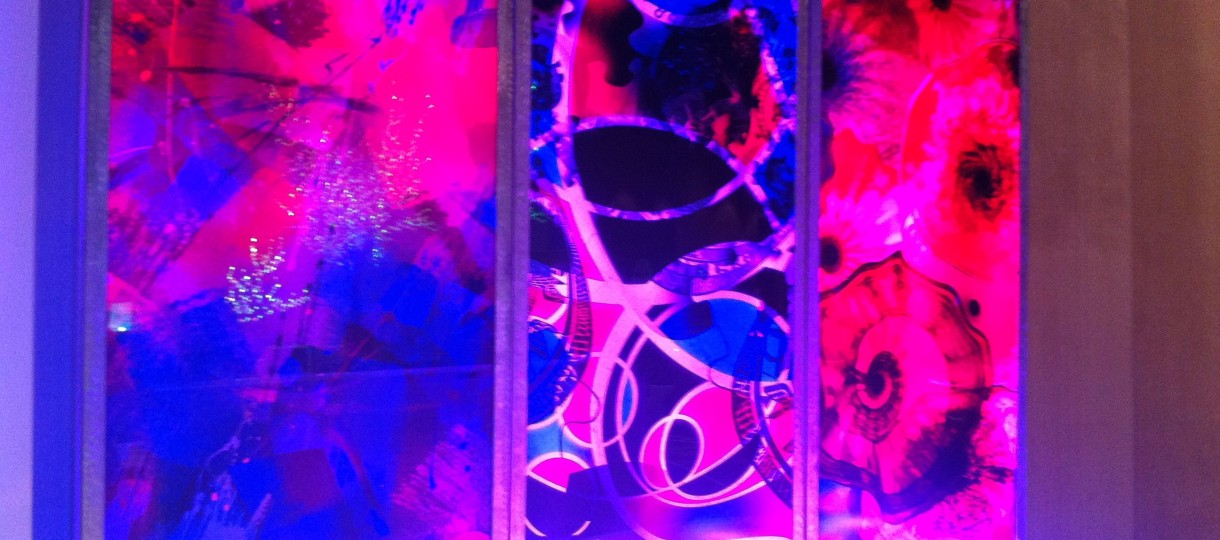 This last year we traveled to the West Coast then back home to the East Coast, attended all the hottest event trend focused tradeshows and put together a list of our favorite trends for what we believe will be at the forefront of revolutionary marketing for years to come. Strategies like NYC Food Truck Advertising are amongst the many things we would like to discuss in future posts. Ironically the number of trends we arrived at ended up to include 12! So feast your eyes on these amazing trends that are sure to inspire some great ideas and components to include in your programs this year. If you have any questions as to how and where to get some of these fabulous finds, drop us a line!
(1) Go Bananas for Backdrops!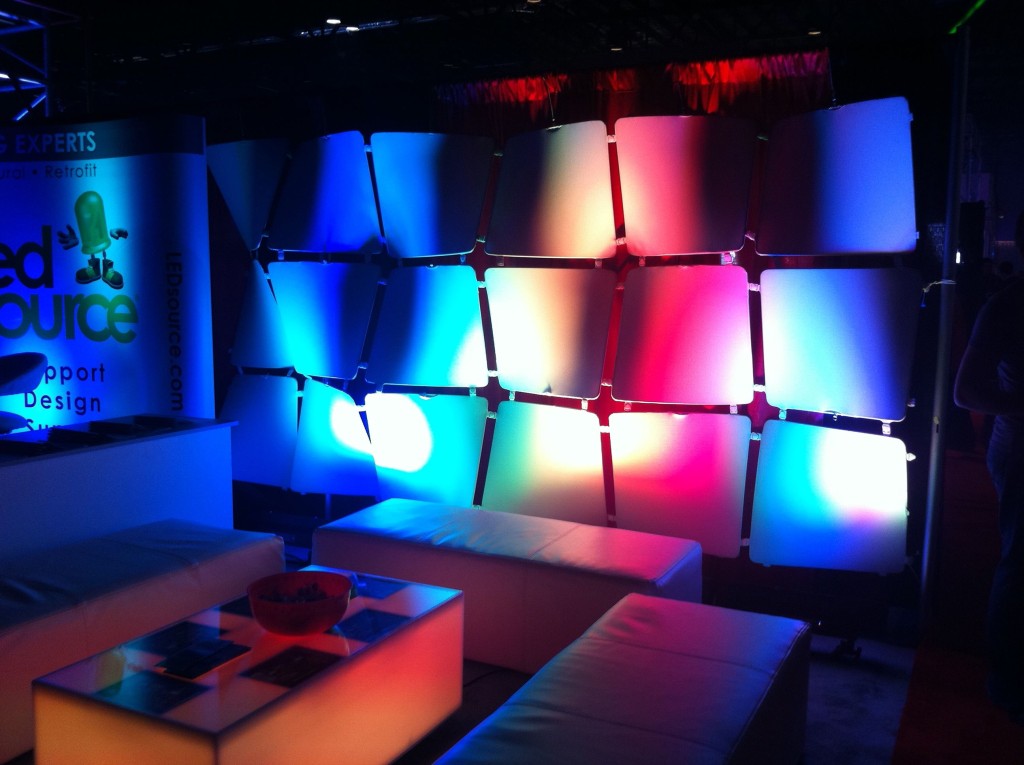 These new wave walls add dimension and a unique dynamic to any room. The way lighting bounces off these walls really creates an interesting appeal for any type of stage set, lounge area or even partition wall.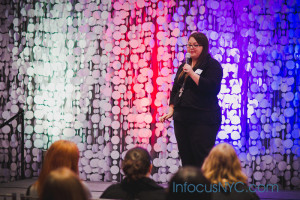 These circular curtain drapery pieces come in white as well as iridescent and are groovy yet ultra stylish. A great addition to any stage session and take background up lighting to a whole new type of ahh- mazing! Big Thanks to my high school buddy and oh so talented photographer, Pete Gebhart of InFocusNYC.com for capturing this shot at BizBash NYC Expo.
Art, design, branding, you name the print and you can make it happen within these "light box" background walls.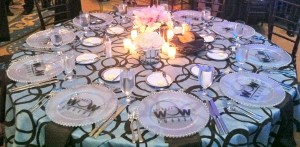 (2) Table Top Decor & Design
Being a marketing maven, I absolutely adore tastefully branded décor pieces. These beaded clear decorative charger plates are the perfect frame for our local Orlando WOW awards' show logo. The black silhouette of the logo coordinates perfectly with the elegant linens and Chiavari chairs.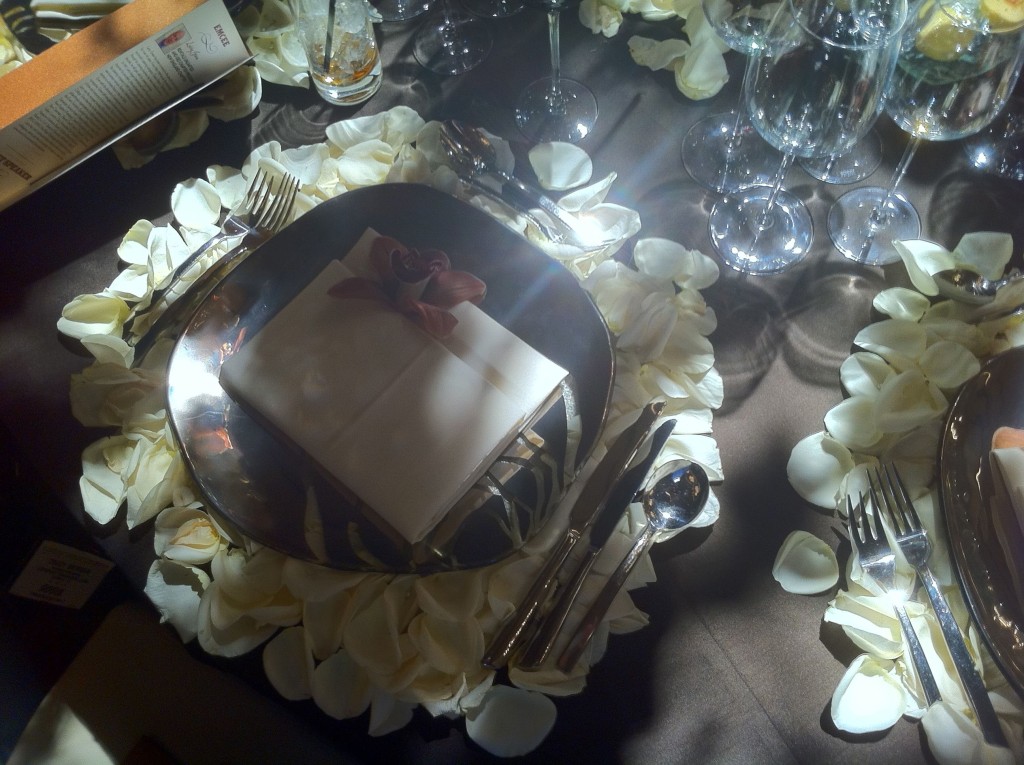 I call this "On a bed of roses" While in Vegas at an ISES Las Vegas chapter showcase at the Mandarin Oriental, this shiny robust, oddly oval shaped charger on top of white rose petals really created an interesting, yet romantic table setting that is also cost effective!
At first glance this totally looks like lamps coupled with a white and pink floral arrangements. Look again, as what appears to be a set of table lamps are yet two tall vases with floating florals inside with lamp shades on top. What a creative and resourceful approach for a beautiful centerpiece arrangement.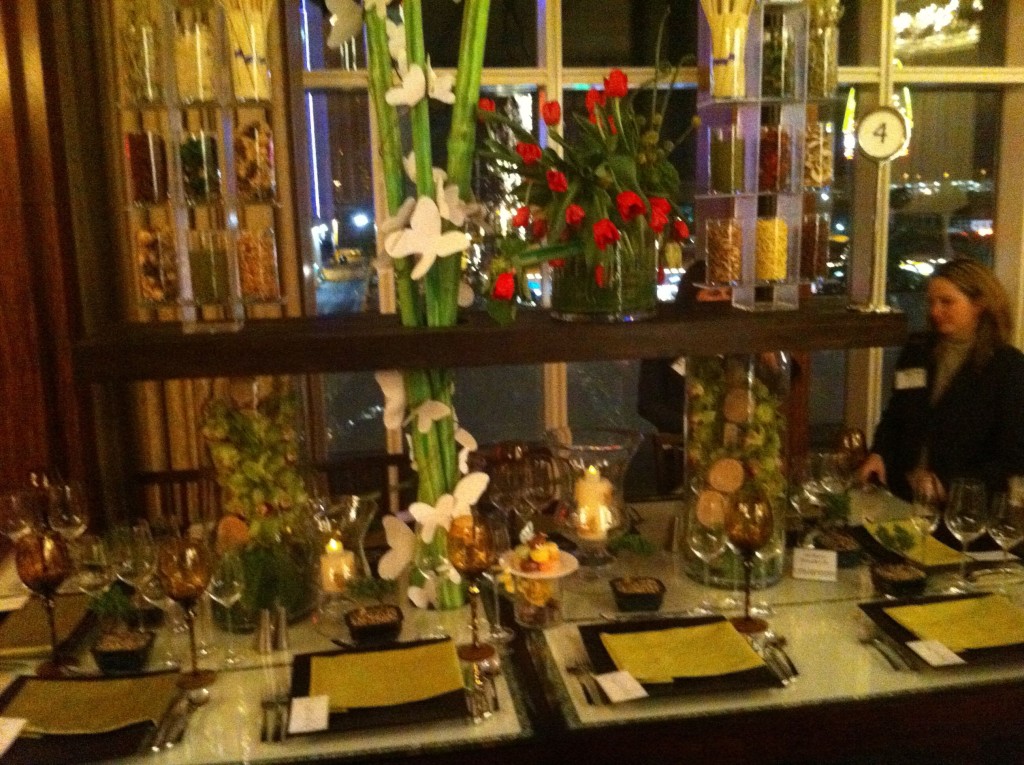 Taking creative centerpieces to another level and shelving it! This table setting was part of a tabletop competition and I had never seen anything like this before. Combining a spice rack theme but adding florals inside frame the top shelves, while in the center, bamboo with lilies extend from the base of the shelf into the top shelf level. While at the bottom, supporting the shelves are tall circular vases filled with citrus and greenery. Finishing the accents in the center floating candles inside medium clear vases bring together the look for complete harmony.
(3) Fabulous Floral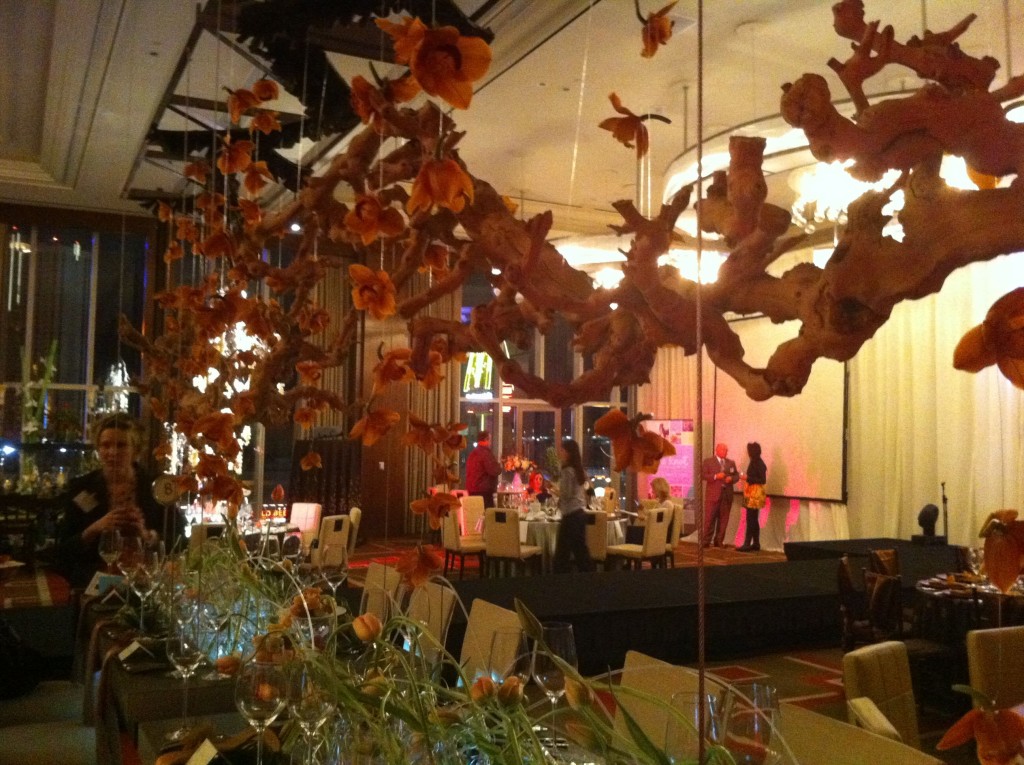 A huge trend I keep seeing among many floral designing experts is suspending florals. This extraordinary centerpiece took a large tree branch and surrounded the uniquely organic focal point with tangerine orchid blooms which are all individually suspended flower by flower, making this an absolutely emulated whimsical butterfly garden.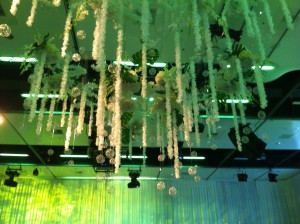 Floral Chandeliers are so in! They most certainly add an enchanting look to any room. This particular chandelier that I snapped showcases white dendrobium orchids with silver spheres accenting in between each chandelier strand. That's what I call a sensational ceiling centerpiece!
(4) DJ Entertainment to the Extreme!
Technology is constantly evolving and really taking hold to the DJ industry. Long gone are the days of two turntables and a microphone, turntables have now evolved into LED over sized touchscreen DJ mixing consoles. Not only can you control the mixing console via this touch screen panel, but your DJ can also create custom messages while songs are playing throughout the evening.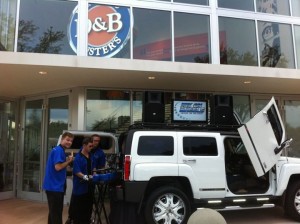 Who would think you can take your events into motion? You sure can now! These mobile DJ vehicles- The H3 Hummer Xtreme, pictured here- debuted for meeting professionals worldwide at MPI-WEC 2011 in Orlando at Planner Playground at Dave & Busters. The Exhilarate Marketing team was proud to have handled all event marketing and promotions for this launch event. We are a little bit biased on this piece of DJ technology, but no longer do you have to be restricted to power outlets as these vehicles are completely self-contained!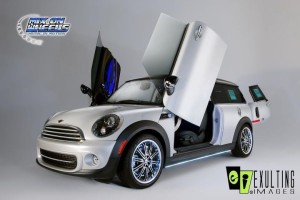 In addition the company just released this month their newest vehicle, the Mini Cooper Clubman, which offers a more compact option for venues that have smaller space constrictions. All their vehicles feature custom features like you wouldn't believe! Lamborghini doors, LED lighting, LCD screens, the branding capabilities are endless!
(5) Stage Design &Temporary Structure Design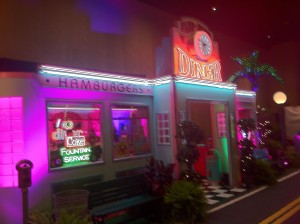 Bring your event theme really to life with temporary structure displays! A 50's diner themed façade with authentic features are perfectly tailored on the outside as well as on the inside. The inside also features a full bar with real deal props and 3 table booths face the windows. Checkered flooring completes the diner's interior. This set provides the perfect environment for a small food and beverage lounge area!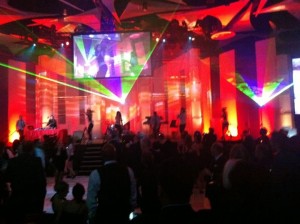 Stage sets are really important when you want to create a complete WOW factor. Simple vertical fabric panels that surround this stage's backdrop helped bring out all the color that this over the top laser light show provided for an award after party we attended last year. Coupled with an amazing lighting design this stage set really stood out to me and in a good way! While above, white spandex sails added ceiling treatments that coincided with the entire stage design. The lighting and colors continued to reflect from the floor to the ceiling. This type of ceiling treatment surely took an ordinary boring and black ceiling, replacing it with a kaleidoscope of colors.
(6) Make An Extraordinary Entrance!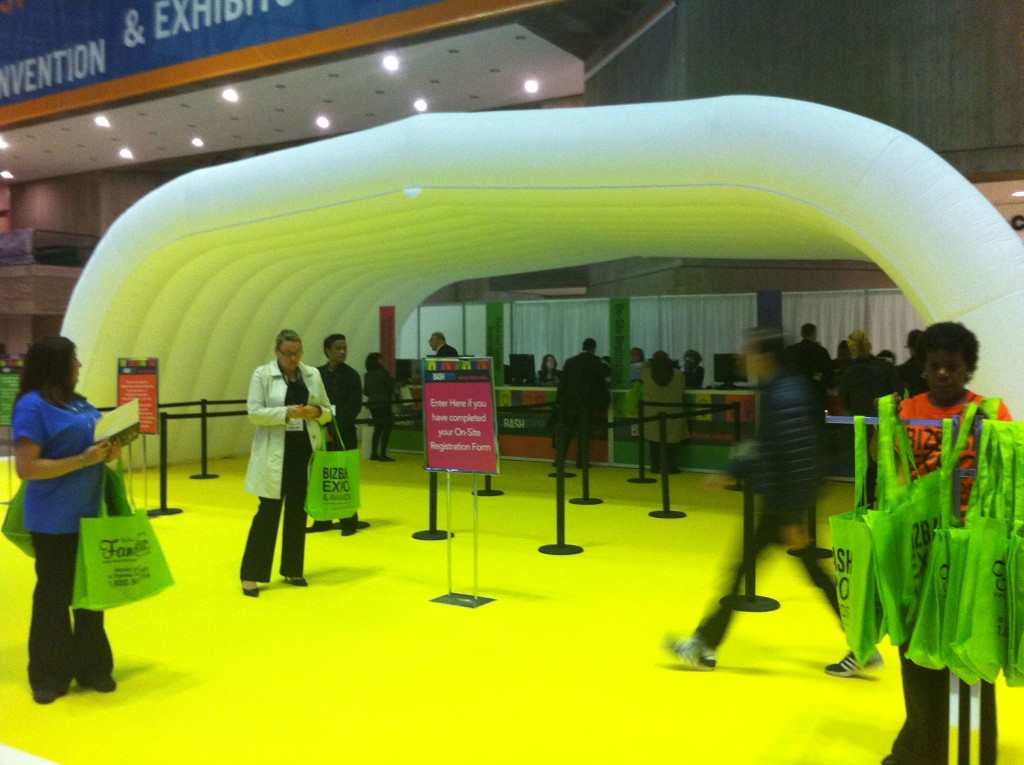 How do you make your registration areas really stand out? Inflatable archways are a great solution to add drama, an overwhelming focal point and great directional to guide guests upon first arrivals.
(7) LED Technology
LED technology has been extremely prominent in event design this year and I predict it will continue to advance and allow for so many more design opportunities. Some LED elements that have caught my eye included:
LED Chandeliers- multi-color, energy efficient- what more can you ask for!
HD LED Walls- so realistic, so three-dimensional, images seem to be so close you experience them at your finger tips!
LED Panel walls, colors, shapes, graphics so vividly bright, really bring a stage program to life! Animating the stage background!
LED Panel walls also available in wave arrangements! Adding depth and possibility!
(8) Living Decor Creates Amazing Atmosphere Accents!
Living red carpets! No your eyes do not deceive you! A beautiful model's dress doubles as a 12 foot plus long red carpet entrance! Now that's what we call a grand entrance!
If your event theme is not as elegant, but more Asian-inspired, opt for the geisha girl living red carpet!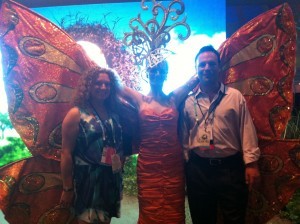 Another magical option is employing strolling décor models! if you have a specific theme, why not couple it with a larger than life butterfly!
(9) Catering Displays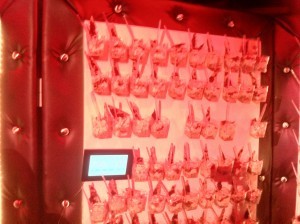 Why not put your appetizers on the wall! Your food can now even act as your décor! With decorative walls and Velcro fabric squares you can put your finger food buffets on the wall!
(10) Twinkle, Twinkle, Starred Dance Floor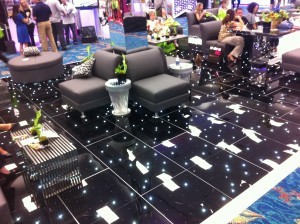 Decorative lighting is not just limited to traditional perimeter lighting! Now your dance floors can twinkle! LED technology is present once again making twinkling dance floors now possible!
(11) Touch Screen Technology. A Photo Booth Phenomenon

Don't you feel like the whole photo booth craze has totally outlived its fifteen minutes of fame? Well it lives on through touch screen technology! This awesome photo booth alternative not only immediately uploads your image to twitter and facebook, but instantly prints out to a digital photo printer. In addition this interactive photo booth allows users to personalize their photos with customized messages, or even funny face accents- whether it be mustaches, angry eyebrows or gaudy goatees, this is a definite crowd pleaser! It had me totally engaged!
(12) Leader Boards

Leader Boards that are chalkboards and collage walls. Each day of your conference is unique, so planning out your print collateral months in advance is not always ideal, but this leader board eliminates your need for extra signage and puts you in charge of day by day customization!